Regular price
$139.95
Sale price
$149.85
The Fit Dad Fuel Bundle gives you 60 Sachets across our full range.
 -A "4AM Toddler" Energy box of your choice.  (20 x Single Serve Sachets)
-A "Baby Brain" Hydration box of your choice.  (20 x Single Serve Sachets)
-A "Unwind" Recovery box of your choice. (20 x Single Serve Sachets)
So what Is in each of the Packs?
About Energy: 
Finding energy as a father first thing in the morning is sometimes hard to do. The perfect solution before your next workout or because the kids have kept you awake all night and you have a busy day at work!
Developed and manufactured in Australia, our 4am Toddler Energy formula comes in 4 amazing flavours. It's been tested to provide up to 4 hours of energy with NO CRASH. With a proprietary blend of Nootropics - it helps to keep you super alert and focused, improve your memory and of course give you more energy.

"Nootropics offer a range of cognitive benefits, including faster reaction time, increased alertness, improved memory, and decreasing mental fatigue and fog. Some nootropics are also adaptogenic, meaning they help your body manage stress, they are often described as food for your brain"

Energy Ingredients 

Glycine, Proprietary Blend (L-Tyrosine, L-Theanine, Anhydrous Caffeine, Alpha Glycerylphosphorylcholine, Rhodiola Rosea Extract, Pterostilbene, Hordenine Hydrochloride, Mucuna Pruriens Extract, Synephrine Hydrochloride, Piperine Extract, Vitamin B6 (Pyridoxine Hydrochloride), Huperzine A), Flavour, Acidity Regulator (Citric Acid), Sweetener (Sucralose), Colour (Allura Red, Brilliant Blue).
About Hydration:
Maximise your performance during your workout or on the job as a father with our hydration formula with all 9 essential BCAAs (Branched Chain Amino Acids)

Developed to keep your cells loaded with fluid so that you can continue to operate at the most optimum levels with a clear focus throughout and combat muscle soreness and fatigue.
Hydration Ingredients: 
Amino Acid Blend (Glycine, L-Leucine, L-Isoleucine, L-Valine, L-Phenylalanine, L-Tryptophan, L- Lysine Monohydrochloride, L-Threonine, L-Methionine, L-Histidine Monohydrochloride), Flavour, Acidity Regulator (Citric Acid), Mineral Salts (Magnesium Citrate, Sodium Chloride, Potassium Chloride, Calcium Citrate), Sweetener (Sucralose), Colour (Sunset Yellow), Emulsifier (Sunflower Lecithin).
About Recovery:
The Recovery Blend has been specifically created with a range of ingredients that trigger a message to the brain and nervous system and signal for your body to calm down and relax. It's perfect to have after you have tucked the kids in to bed and are looking to unwind and a great night sleep.

Recovery Ingredients: 
Cocoa (47%), Proprietary Blend (Gamma Aminobutyric Acid, Magnesium Citrate, Mucuna Pruriens Extract, Withania Somnifera Extract, L-Theanine, Acetyl-L-Carnitine Hydrochloride, Vitamin B6 (Pyridoxine Hydrochloride), Zinc Gluconate), Flavour, Organic Flaxseed Fibre, Sweetener (Sucralose).
Reviews
Customer Reviews
05/10/2020
Scott R.
Australia
Everything you need to fuel up and wind down.
Great product! Energy gives you a great boost to start your day.. Hydration keeps you energised and focused.. Recovery is prob the favourite at the moment as it lets you wind down nicely and get a nice slow wave recovery sleep. I am waking up a lot clearer. Overall happy as with these products!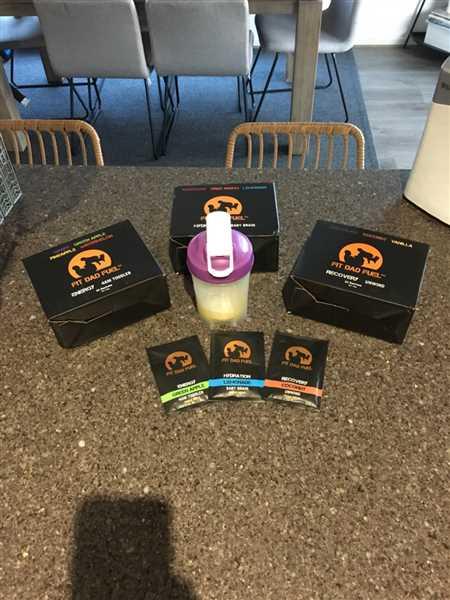 With plenty of flavours and options on the table I didn't know what to purchase and what flavour I might like to stick with for the month. The Trial pack allowed me to try each of the flavours once and made my decision easier. Watermelon was the clear winner.
Trial Pack is such a great idea.
Love the messaging behind the products and that Leroy gave me a copy of the E Book as a bonus gift for signing up. Cant wait to get around to trailing all the products and sharing with other Dad's in my area.
Love The Names
I was lucky enough to be on a trial of these products for the last month. As someone who likes to just do manual labour and go for a walk with the the kids I took the energy as a kickstart in the am upon waking. I can tell you the start of my day I have never had enough energy and I dont have that itchy feeling from the other crap on the market.
Not a Gym Junkie