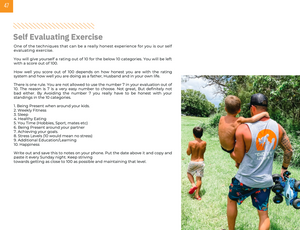 30 Day Kickstart - Ultimate Blueprint for Dads.
🚀 Introducing the Fit Dad 30-Day Kickstart Program! 🚀
Are you ready to transform your life, Dad? Dive into our comprehensive 114-page Blueprint, meticulously designed to kickstart your journey to a healthier, happier you! 
🏋️‍♂️ What's Inside:
1. Nutrition Education: Master the art of balanced eating with our in-depth nutrition guide. Learn to fuel your body for optimal energy and vitality. 🥗
2. Mindset Mastery: Unleash the power of your mind! Discover techniques to boost confidence, reduce stress, and develop a positive mindset that fuels your success. 💪
3. Fitness Programs: Tailored workouts that fit into your busy schedule. From quick routines to full-body challenges, we've got your fitness covered! 🏃‍♂️
4. Meal Plans: Say goodbye to guesswork! Delight your taste buds with our delicious, easy-to-follow meal plans. Healthy eating has never been this enjoyable! 🍽️
5. Fatherhood Fitness Tips: Exclusive advice on balancing fatherhood and fitness. Learn how to stay active, even on the most hectic days. 🤹‍♂️
6. Success Strategies: Elevate your game in every area of life. We provide you with proven strategies for career, relationships, and overall personal growth. 📈
7. Expert Advice: Insights from seasoned dads and fitness experts. Their wisdom will inspire and motivate you every step of the way. 🗣️
👨‍👧‍👦 Why Choose Fit Dad's Kickstart Program?
✅ Comprehensive Guide: Every aspect of your fitness journey is covered, ensuring a holistic transformation.
✅ Easy-to-Follow: Simple, actionable steps that seamlessly integrate into your daily routine.
✅ Supportive Community: Connect with like-minded dads, share experiences, and motivate each other to reach your goals.
✅ Results-Driven: Our program is designed to deliver real, sustainable results, transforming not just your body but your entire lifestyle.
Ready to embark on this life-changing adventure, Dad? The Fit Dad 30-Day Kickstart Program is your ticket to a healthier, happier, and more successful you! 🌟 Don't wait – your transformation begins now! 🚀