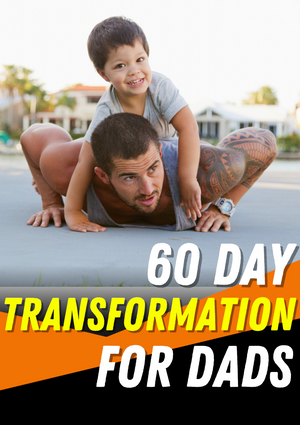 60 Day Transformation for Dads
"Calling all Dads on a mission to be their best selves and inspire the next generation!
Are you a father who's yearning for a fit, healthy lifestyle but can't quite muster up the motivation to kickstart your journey?

Do you aspire to be the ultimate role model for your children, igniting their passion for health and activity? Look no further because you've found your fitness family at The Fit Dad Lifestyle!
We get it, being a Dad is a monumental responsibility. You want to be there for your kids, leading by example and setting them up for success. That's why we've crafted a program with fathers like you in mind, designed to help you achieve peak fitness while simultaneously motivating and inspiring your children.
Our Blueprint for Success:
🏋️‍♂️ Tailored Fitness Plan: Say goodbye to generic workouts! We provide you with a personalized fitness plan that aligns perfectly with your current fitness level and aspirations. Home Based, at the gym or a mix of both.
🍎 Nutrition Made Easy: Fuel your body with the right foods. Our nutrition plan ensures you're nourishing yourself optimally, making your fitness goals more attainable.
📅 Habit Tracker: Stay accountable and build healthy routines with our easy-to-use tracker. Small steps lead to big transformations.
📘 114-Page Fit Dad Blueprint E-Book: This comprehensive guide offers all the essential steps you need for a successful fatherhood fitness journey. From nutrition insights to sample meal plans, it's your roadmap to a healthier life.
💌 Daily Mindset and Motivation Emails: Stay on track and inspire your children with our daily emails. They'll help you stay focused, committed, and equipped to pass on the gift of a healthy, active lifestyle.
📱 Community Support: Join a thriving community of 5,500+ like-minded Dads, all striving for the same goal. You're never alone on this journey.
📱 Fit Dad Lifestyle Fitness App: Access your workouts, track your progress, and connect with smart devices for a seamless experience.
🕒 Quick Setup: We'll set up your program promptly, ensuring you're ready to take the plunge. Expect your full program within 12-24 hours.
📆 Start on Your Schedule: Choose your start date; we're flexible to accommodate your fitness journey.
💪 Workout Equipment: For home-based workouts, all you need is a set of dumbbells (3-7kg each) and a foam roller for stability and control.
Join us in the Fit Dad Lifestyle community and witness your transformation unfold. Your healthier, happier self is just a click away. Invest in your well-being today and inspire your children to lead vibrant, active lives. Your journey begins now!
Ready to embark on this empowering journey? Sign up for our program today at the bottom of this page, and rest assured, you're not just transforming yourself—you're transforming your family's future.
With unwavering support,
Leroy and the Fit Dad Lifestyle Team